The GASGAS Factory Racing Tech3 Team Owner reflects on what proved to be a dream weekend at home in Le Mans
The Tech3 team will hardly forget Grand Prix number 1000. On one hand, the French team achieved their first home victory in 34 years, thanks to some Dani Holgado (Red Bull KTM Tech3) brilliance in the Moto3™ class. The joy didn't end there either, as MotoGP™ rookie Augusto Fernandez (GASGAS Factory Racing Tech3) secured an impressive fourth place in Sunday's race. After an excellent weekend, Herve Poncharal was all too pleased to speak to motogp.com to discuss an excellent weekend for his charges.
First home victory for Tech3
"We never thought we could win in MotoGP™ until the day Miguel (Oliveira) won in Austria. We've been racing in Moto3™ for four years. In Valencia, Deniz was close to winning… Then the barrier was finally broken in Portimao. But winning there has a completely different taste because, whether it was in 125cc, 250cc, 500cc, Moto2™, or MotoGP™, we had always been cursed at home. Frankly, Dani (Holgado) has been the boss, but we know how competitive this category is. So many things can happen that you're never sure of anything until the end.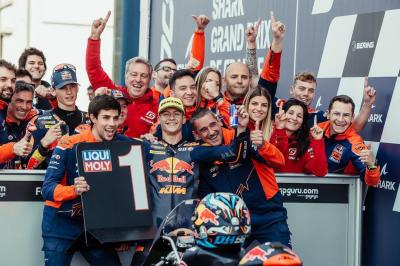 "That being said, we knew from the qualifying session that Dani had an excellent race pace. And it couldn't have come at a better time for this 1000th GP; it was a nice touch. I can say that we've enjoyed this success since it was long-awaited! I'm very happy to have been able to share it with Dani. Beyond being a great rider, he's a very nice and humble guy. After this victory in Moto3™, I told myself, 'whatever happens in MotoGP™, it will remain a memorable day.'"
Augusto Fernandez's fourth place
"Augusto had already impressed us on Saturday by avoiding Q1, something that hadn't happened to us in a long time. Still, he outdid Fabio Quartararo in front of his home crowd! When we saw his time, honestly, we couldn't believe it. It was a moment of great joy and emotion. I think such a performance was a significant morale boost for him. People started seeing him as a rider and not just as a stand-in. Unfortunately, perhaps aiming too high, he crashed in the Tissot Sprint and again in Warm Up, which forced him to start with his second bike. Honestly, we didn't know what to expect, so in doubt, we went with the soft front tyre. It was a risk considering the heat and the 27 laps to cover. But he had to regain confidence.
"When Luca Marini (Mooney VR46 Racing Team) and Alex Marquez (Gresini Racing Team MotoGP™) collided, we thought, 'Damn, now he's fallen behind the group,' even though he had a good start. To our surprise, he made a comeback and maintained a pretty good rhythm. In the end, he finished 4th, just 1.5 seconds behind Johann Zarco, and managed to keep Aleix's factory Aprilia at bay. So, yes, it's not a podium or a victory, but for us, it's the same. We shouldn't forget that this is only his fifth race in MotoGP™. There haven't been many rookies who have achieved such performances on equal footing."
Augusto, an underrated rider
"The saddest thing about all this is the questions the media sometimes ask him, like 'Aren't you afraid of having to give up your spot to Pedro (Acosta) next season?' or when I hear 'It doesn't matter; he's just waiting for Pedro to arrive.' It annoys me because since the beginning of the year, he's been delivering great performances that often go unnoticed. Some will say, 'Yes, he finished 10th because there were crashes'… It's true, but not only that! Look, this weekend he made it to Q2, started with the seventh best absolute time of the race, and finished very close to the top three. His performance was clearly there.
"Of course, the rider needs their team, and vice versa. Then, no matter what's said, once the lights go out, they're somewhat alone. And here, he has clearly shown what he's capable of. Bravo! Frankly, I'm glad to see that he's performing so well. Augusto is a very nice, discreet, hardworking guy… Like Dani, he also brings a kind of tranquillity to the team. When you evolve in such an environment, it's much more enjoyable."
Pol Espargaro, eager to return
Poncharal also had kind words for the recovering Pol Espargaro (GASGAS Factory Racing Tech3), absent since his huge crash in Portimao, and the Tech3 team boss provided an updated on the Spaniard.
"We exchange messages regularly. In fact, during the race, when he was on the pit wall with his chief mechanic, Paul, he FaceTimed us. We could barely hear each other due to the noise, but we greeted each other. All of this to say that he's very attentive to what's happening. He's working very hard on his part. I know that he underwent several tests this week to refine the possible medical green light. His goal would be to return at Mugello.
"However, after talking to Doctor Charte again this weekend, his injuries are quite significant. So it's better to wait until he's properly healed before considering a return to competition. We're lucky that there's a break between Le Mans and Mugello… or at least we hope so. In any case, we won't play with his health, especially when it comes to the spine. He could ride a bike physically now. The problem is if he falls or if someone hits him. Nonetheless, he's excited about it. It's even sadder when we consider that Pol, Jack Miller (Red Bull KTM Factory Racing), and Brad Binder (Red Bull KTM Factory Racing) were at a similar level during the winter."