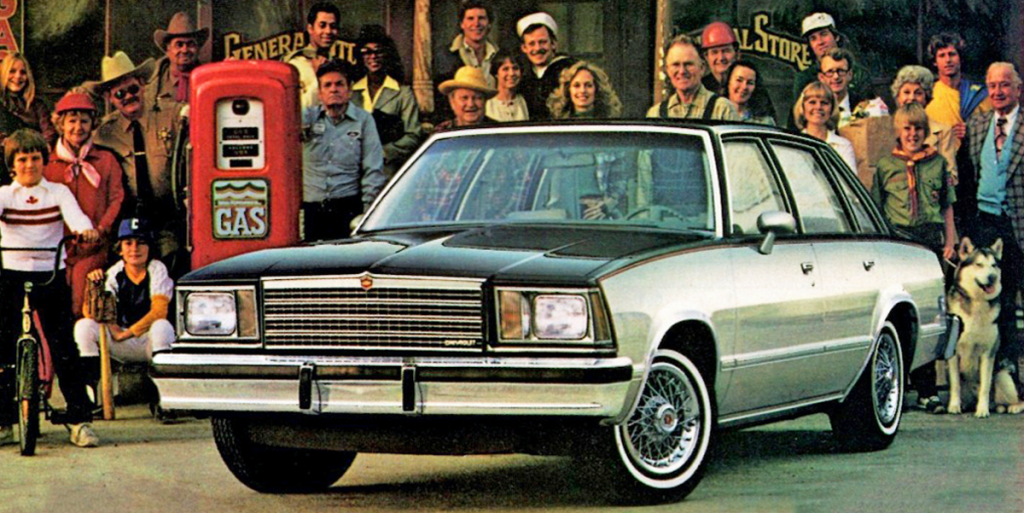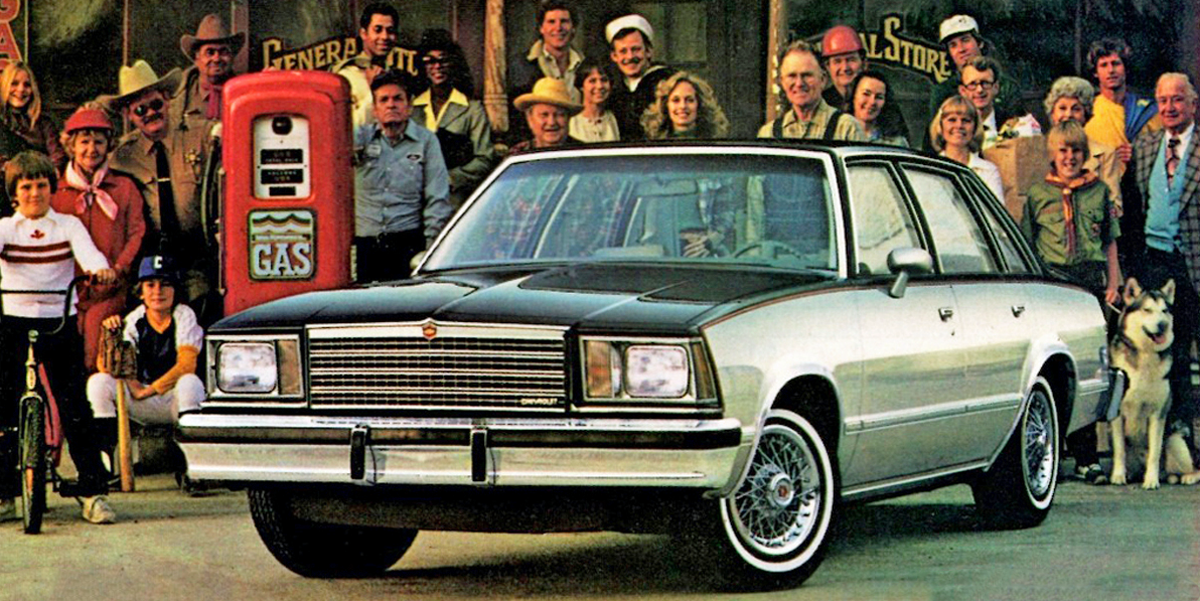 I grew up happy and healthy. And, by that I mean I was not deprived of anything meaningful as a child. Sure, my dad didn't pop for a color TV until 1980, and none of our cars ever featured operating air conditioning, much less a cassette player or anything approaching performance. While this for me was true deprivation, I doubt any court of law would find my parents guilty of child abuse.
While my dad enjoyed working on his own cars, he never really cared much about them. He never, for example, waxed a car, and never worried too much about driving anything sporty or luxurious. This gallery is a tribute to dads like my mine. Practical and responsible dads who did not waste money on cars, or for that matter, decent TV sets. If your dad was like mine, drop me a note. The place to leave comments is down below.
Dad Cars
1973 Ford Torino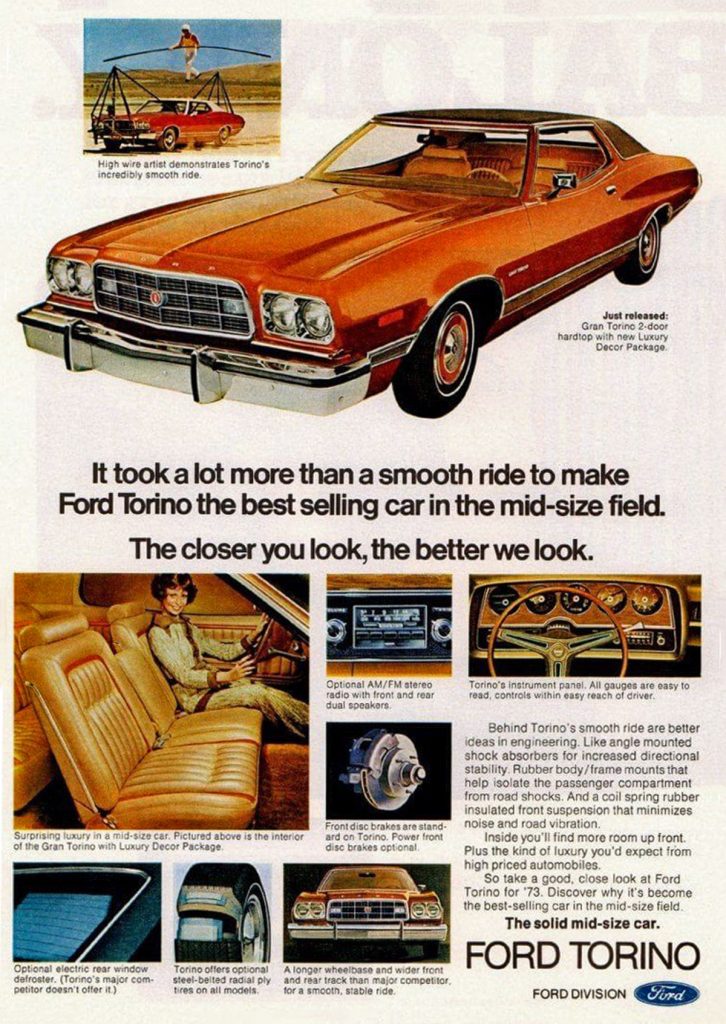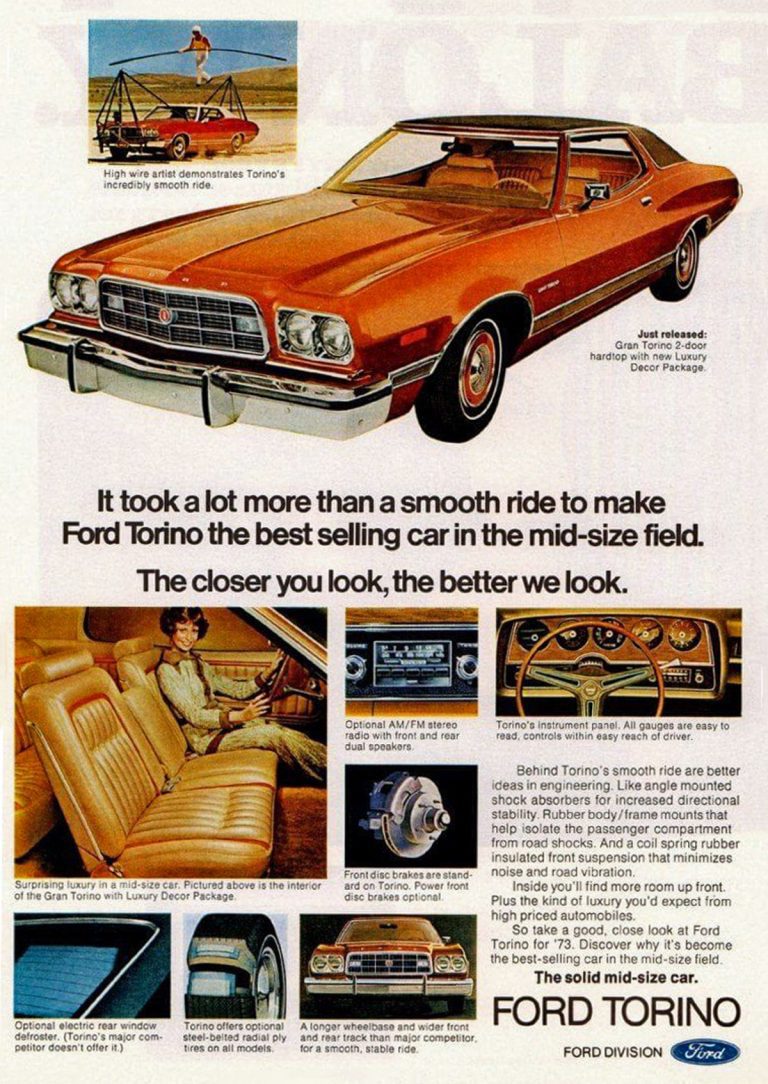 My dad had no objection to coupes, but rarely considered anything genuinely sporty. Something like the Torino seen here would have appealed to him, though dad would never have popped for the vinyl roof, nor the white-sidewall tires.
Photo Feature: 1973 Ford Gran Torino Sport
1973 Oldsmobile Cutlass S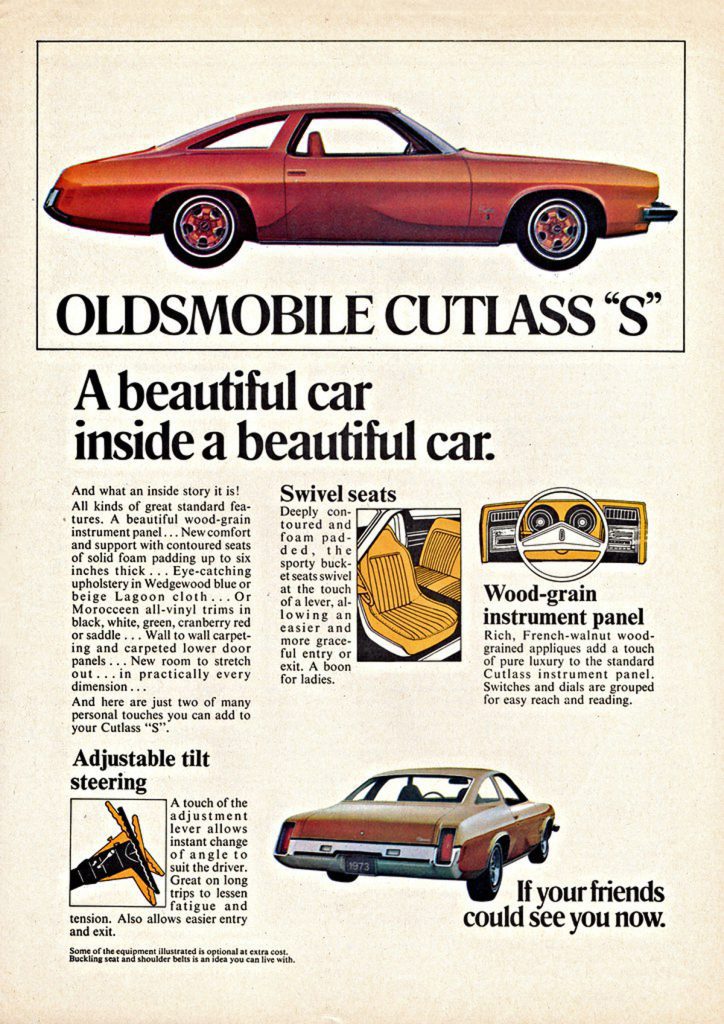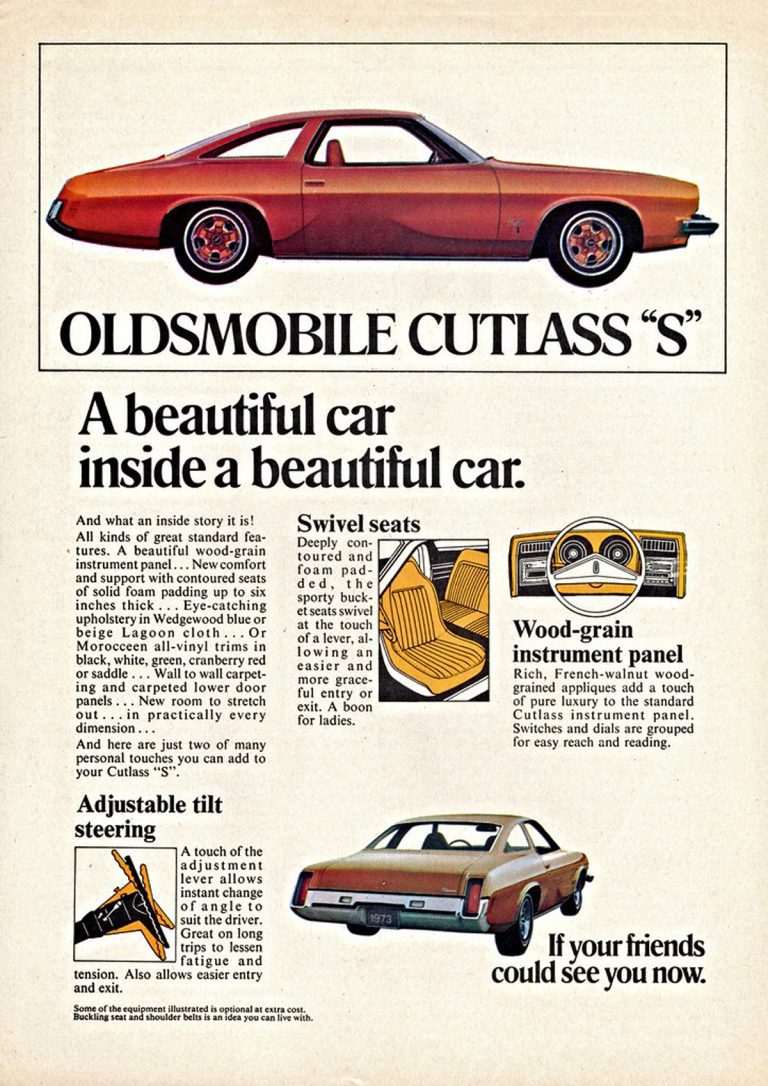 The beauty of the Cutlass S was its appeal to misers. A good-looking silhouette and sporty wheels suggest that there's more going on here than there really is. Note that the S, though available with a tilt steering wheel, and "rich French-walnut wood-grained appliqué," does not come standard with a radio, or air conditioning. My dad would have paid extra for AM radio. He, however, had little interest in FM.
Classic Car Ad: 1975 Oldsmobile Cutlass Supreme
1974 Oldsmobile Omega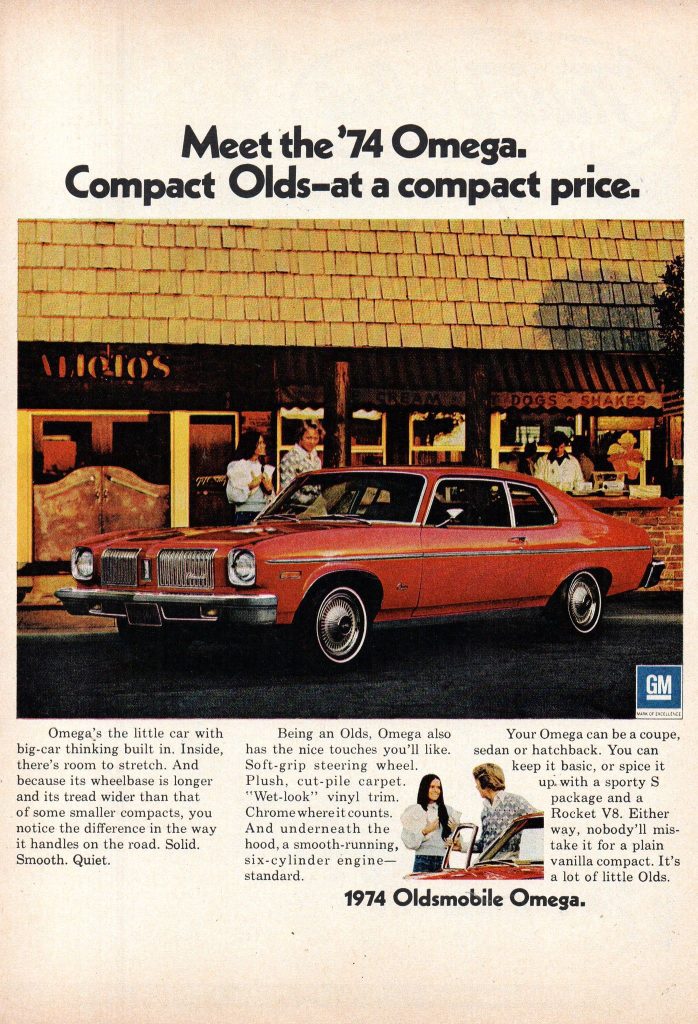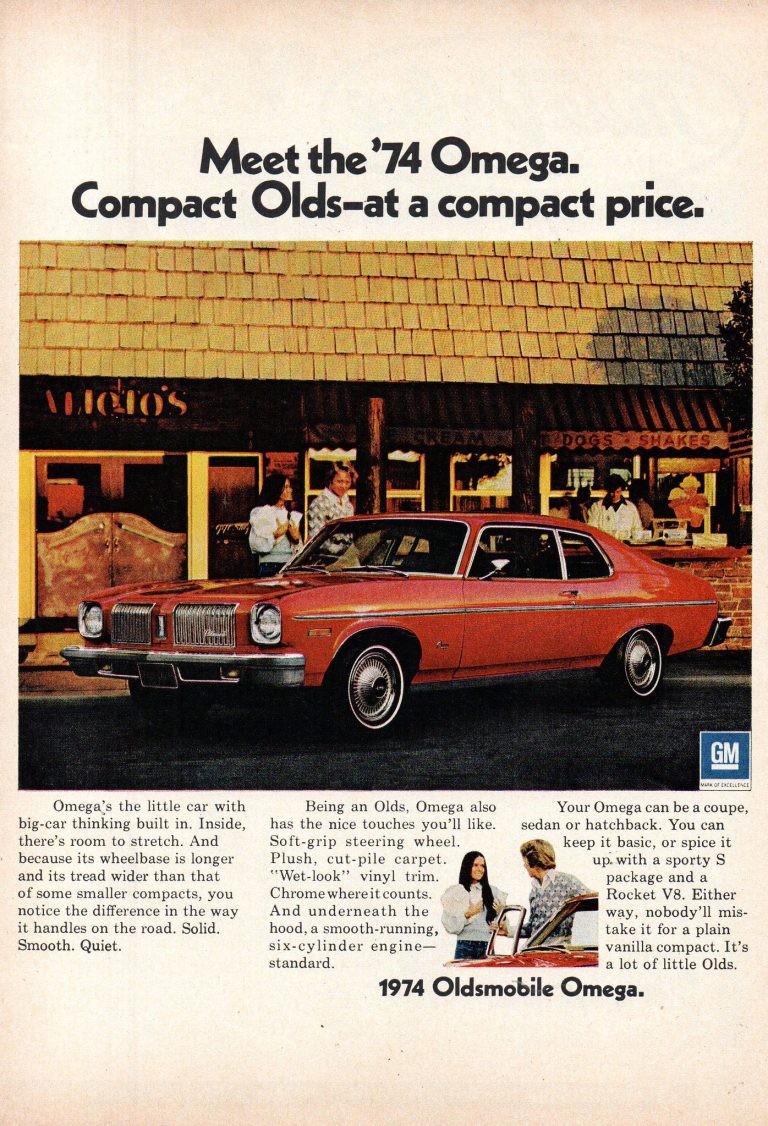 The Omega was the poor man's Oldsmobile. Its mechanically identical cousins at Chevrolet, Pontiac, and Buick–the Nova, Ventura, and Apollo respectively–happened to be the poor man's models from those brands. My father owned a Nova and a Ventura. The Nova, a 1970, featured just three options: 307-cubic-inch V8, automatic transmission, and AM radio. The black vinyl seats burned the backs of my thighs on many a July day.
NOVA(S): The GM Compacts of 1975
1976 Dodge Dodge Aspen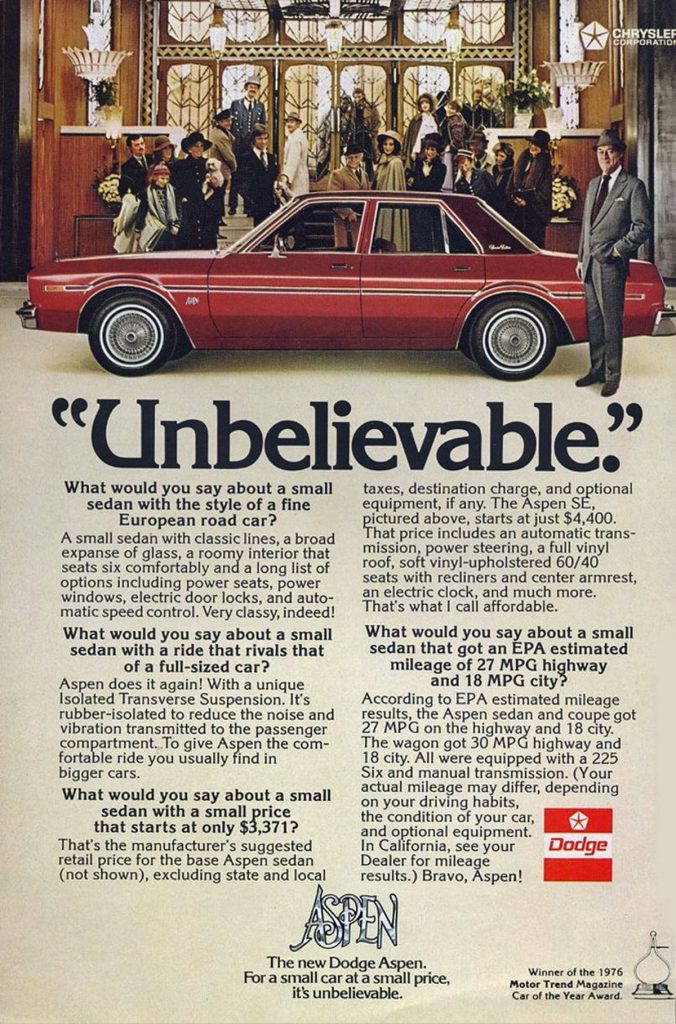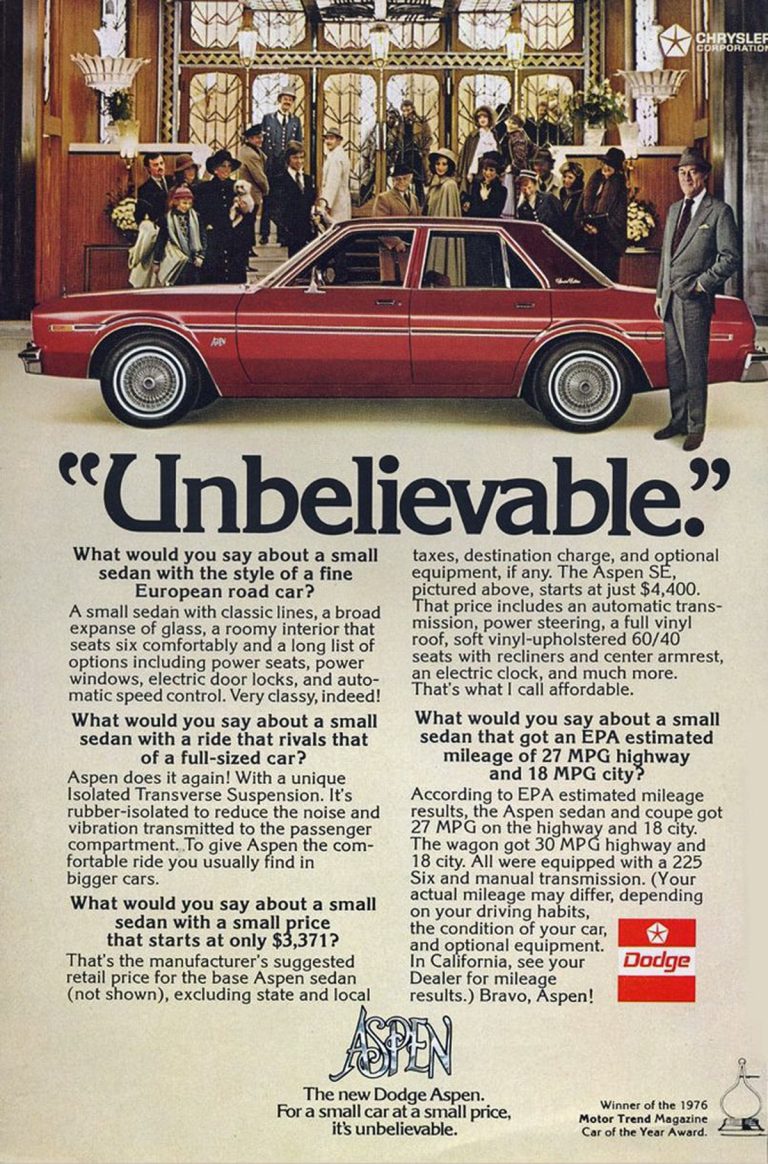 My dad didn't own an Aspen, or a Plymouth Volaré, the Aspen's Chrysler Corporation twin. My did own a Plymouth Valiant, predecessor to the Volaré, and among the most rudimentary vehicles ever sold in the U.S. The 1974 Sedan was at one time white, but a $99 dollar visit to a Chicago Earl Scheib shop netted us a yellow car with white door jambs. Powered by the legendary Chrysler Slant Six, the Valiant was generally reliable, but hard to start in cold weather. I learned to drive–before my dad knew it–in that Valiant.
Malaise Muscle: 1976-1980 Dodge Aspen R/T and Plymouth Volaré Road Runner
1980 Ford Fairmont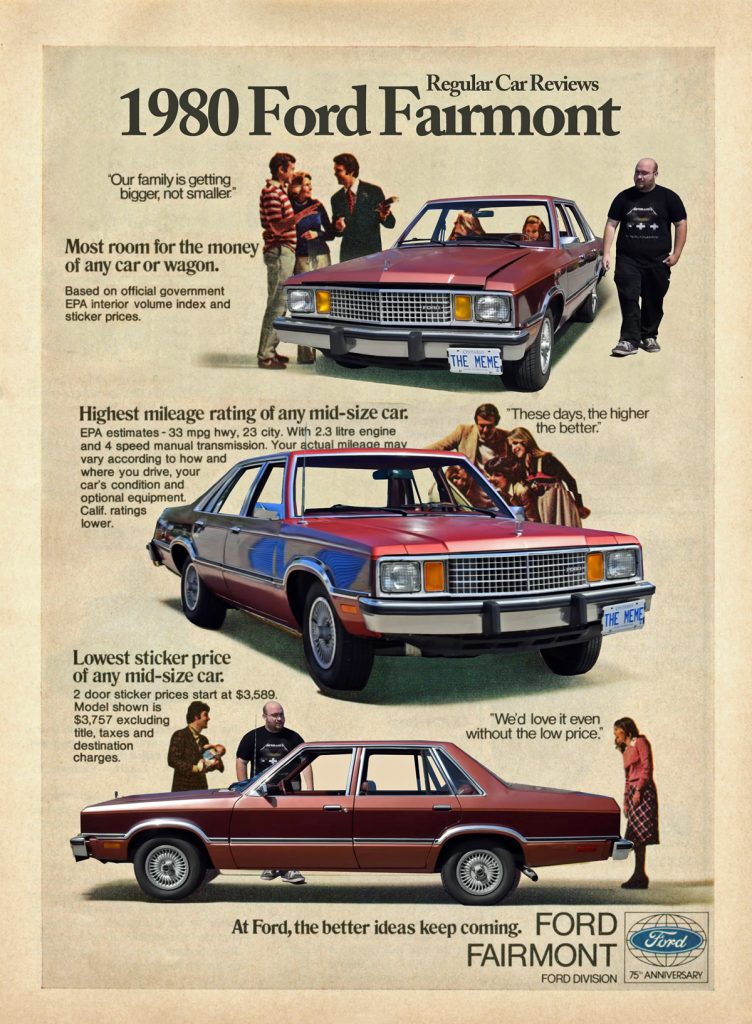 The only thing interesting about the Fairmont was that it was technically possible to wedge a Ford V8 under the hood of one. Though my father never owned a Fairmont, it was unlikely he would have ever done something so conspicuously performance oriented as an engine swap. Also, my dad did purchase a used 1985 Ford LTD, which shared it's basic "Fox Body" architecture with the Fairmont. That car was boring, too. It was beige.
Segment in Transition: The American Compact Sedans of 1979
1979 Chevrolet Malibu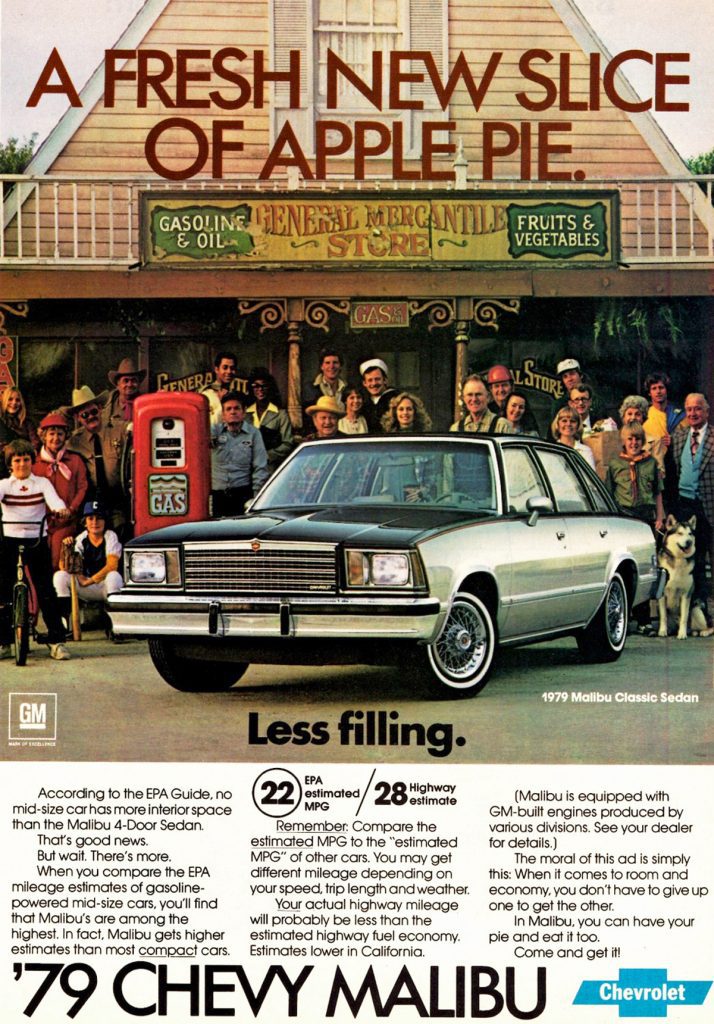 My dad never owned a Malibu, but a buddy's dad did. His was a single-color coupe powered by Chevy's gutless 95-horsepower 3.3-liter V6. There was no getting into trouble in that car. My buddy was rarely handed the keys to the Malibu, instead scoring seat time in the family AMC Gremlin. The Gremlin was slow, too.
Chevrolet Malibu Standard-Equipment Showdown: 1976 vs. 2016
1981 Plymouth Reliant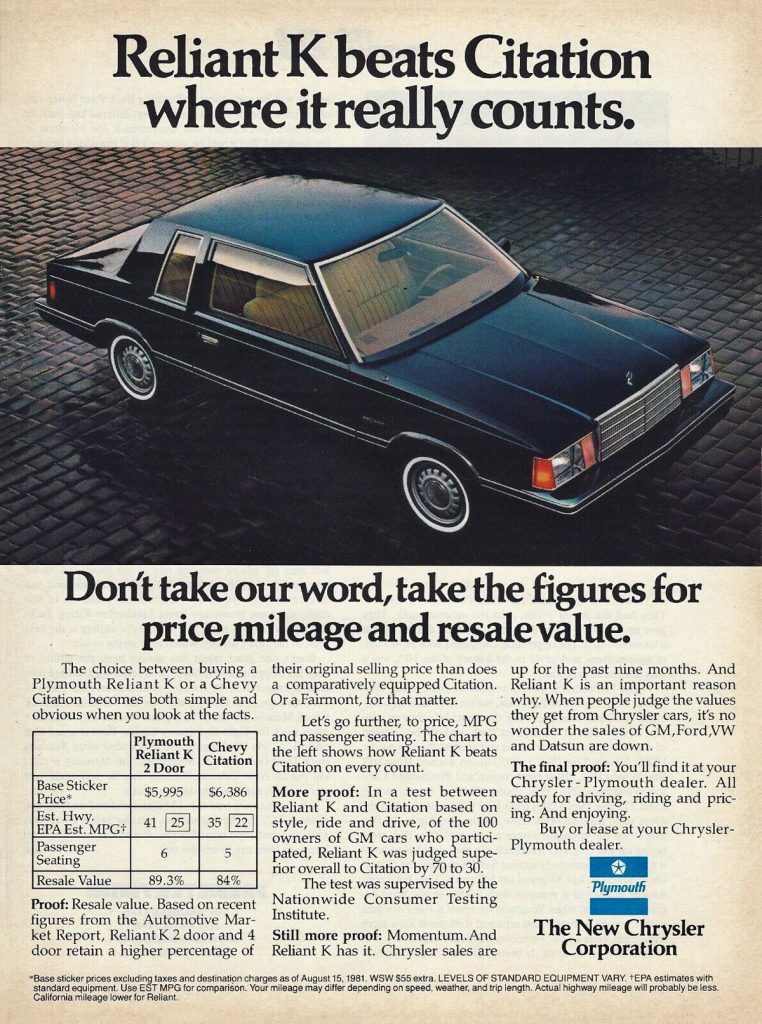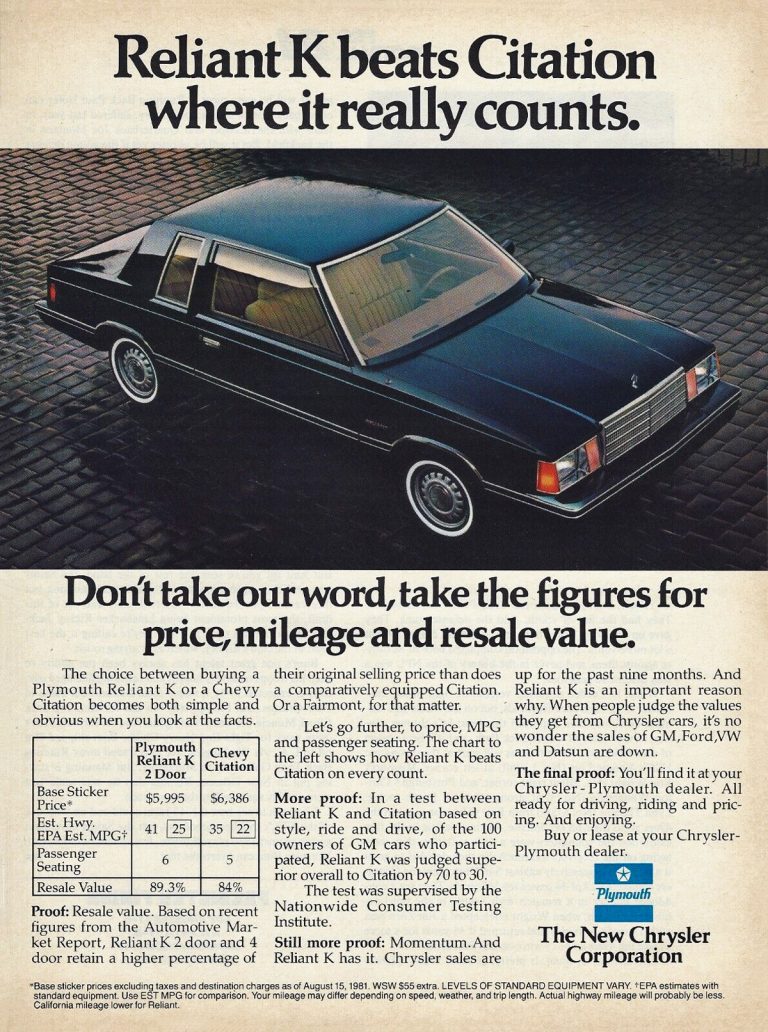 The one new car my father every purchased was a 1984 Pontiac Sunbird. At the time, however, he also considered a Renault Alliance, and a Chrysler K Car. The first K Cars, which were extremely popular, were the Dodge Aries and the Plymouth Reliant. Luckily for me, dad went with the Sunbird, as the Alliance proved to be a reliability disaster, and the Reliant dull as dry pancakes. The Sunbird proved to be a decent car; it was easy on the gas and surprisingly trouble free for an Eighties American car. Did I mention that the Sunbird didn't have air conditioning?
1982 Chevrolet Celebrity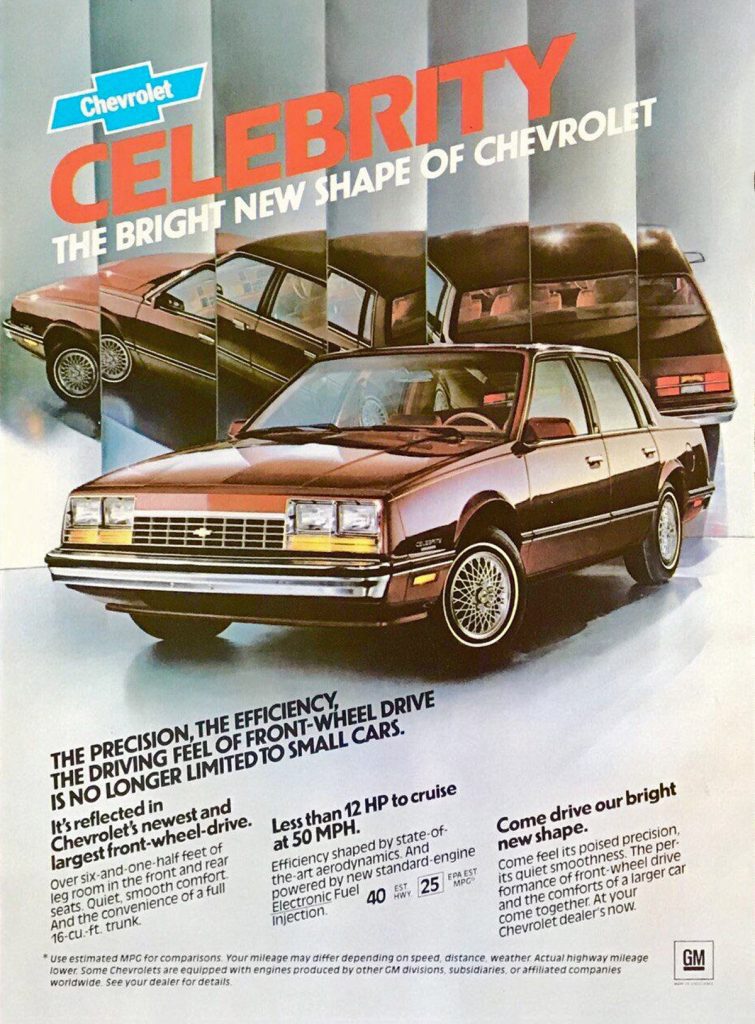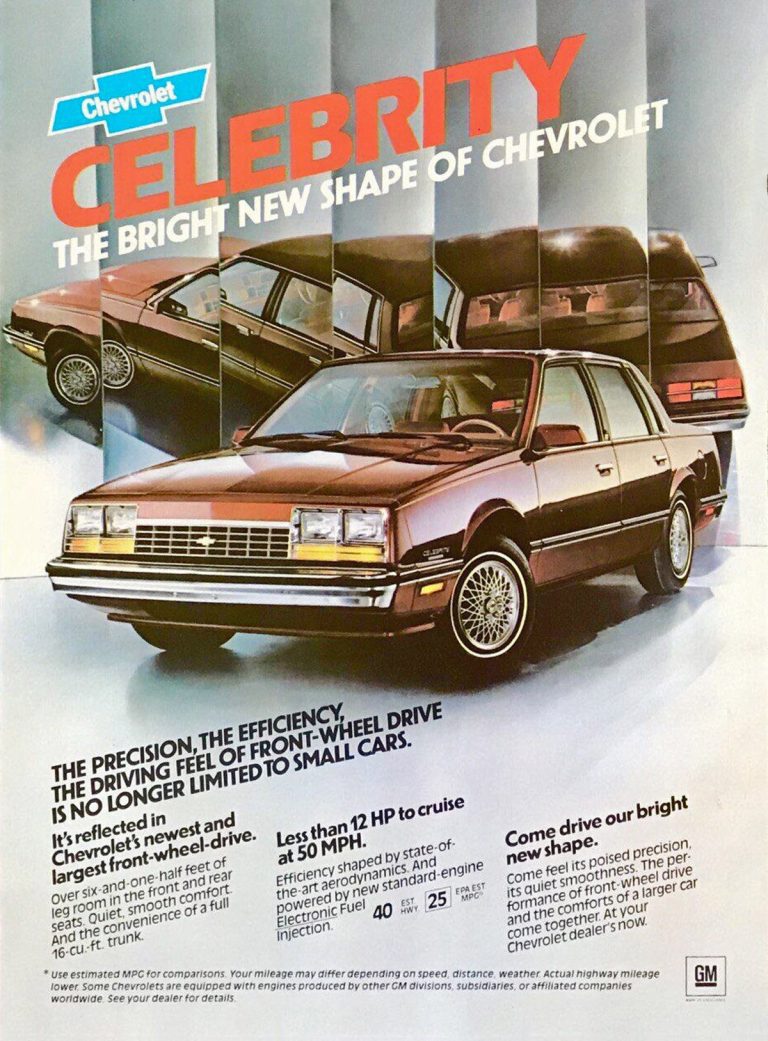 Dad of a high-school friend purchased a Celebrity of about this vintage. Much to the chagrin of my pal, his dad had ordered a base model with the 4-cylinder "Tech4" engine, and not the available–and very desirable–2.8-liter V6. Also not found on his dad's car were the premium wheel covers or white-sidewall tires seen here.
Cheap Wheels: 1991-1994 Chevrolet Lumina Z34
1986 Dodge B-350 Maxiwagon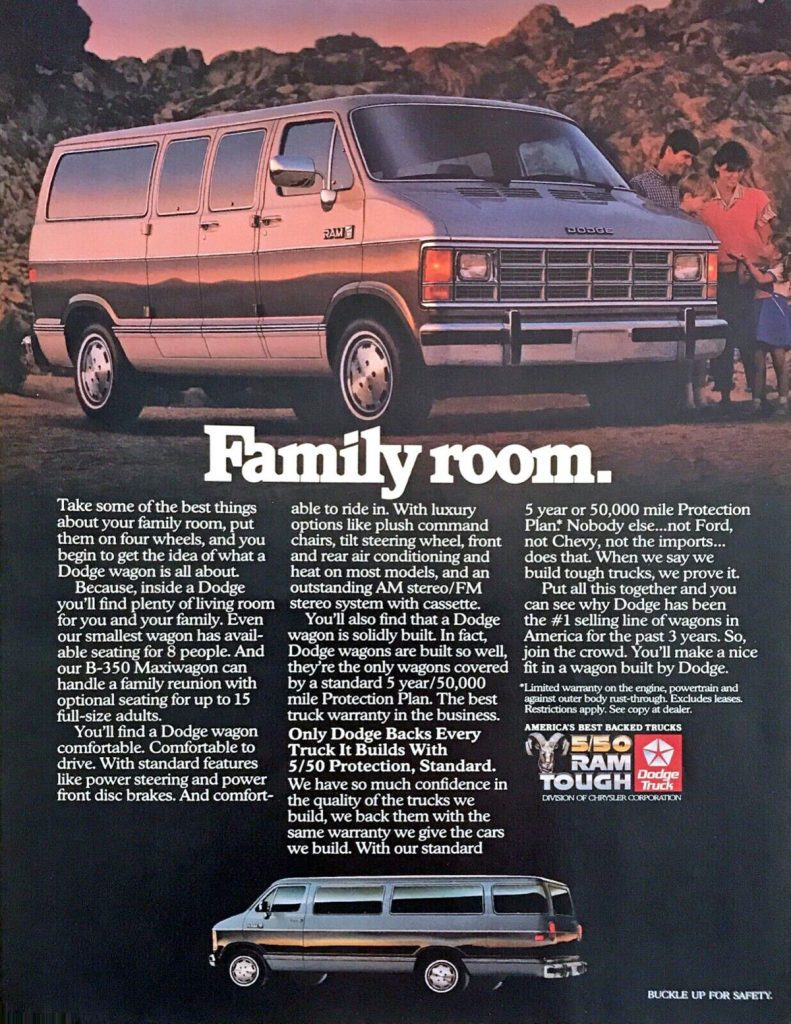 Long before there were minivans, Plymouth attached the Voyager name to a mechanical clone of the full-size Dodge van seen here. Same buddy who's dad owned the Malibu also owned an old-school Voyager, complete with a beefy 360-cubic-inch V8, but not the high-end wood-tone trim seen here. Though my dad would never have considered a van, the space efficiency of such a rig would appeal to him.
Listen to the Car Stuff Podcast
Dad Cars Gallery
Click below for enlarged images
Dad Cars
Dad Cars