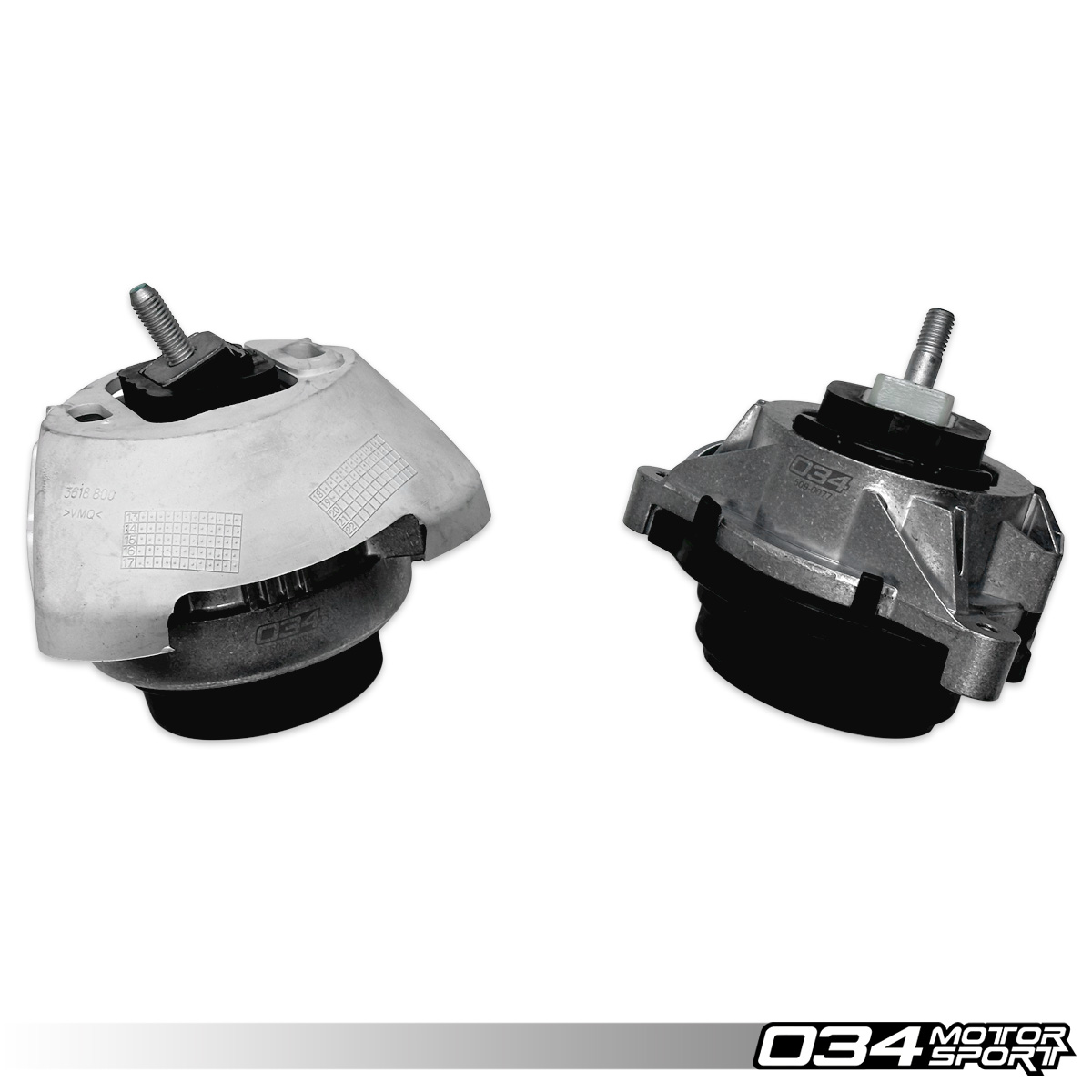 Check out our new Street Density Motor Mounts for BMW F8X here!
034Motorsport Street Density Motor Mounts are the new standard in comfort and performance. These mounts are redesigned with performance in mind and manufactured from high-durometer rubber for increased performance and durability without sacrificing comfort. Street Density Motor Mounts are optimized void-free and fluid-free, eliminating the slop and the possibility of leakage and collapse associated with the factory mounts.
Street Density Motor Mounts are manufactured from high-durometer rubber instead of polyurethane for a number of reasons. While vulcanized rubber mounts are more expensive to prototype due to the complexity of manufacturing and high initial tooling costs, rubber is inherently better than polyurethane as a damping medium for mounts and bushings. Rubber is able to deal with stress under both tension and compression, while polyurethane mounts rely on the damping medium to be effective only under compression. Rubber is also excellent in shear, where polyurethane is ineffective, making it ideal for applications that apply a shear force to the bushing during articulation. Rubber does not pack and wear like polyurethane does, which ultimately results in a long-lasting part with consistent performance and comfort.
034Motorsport Street Density F8X BMW Motor Mounts are also compatible with the BMW Motorsport Motor Mount Reinforcement Inserts
Features:
Manufactured from 60 Durometer Rubber with Optimized Void-Free Construction (No Fluid to Leak Out)
Reduced Drivetrain Slop
Decreased Engine Movement Under Load
More Direct Power Transfer
Improved Shifting Feel
Minimal to No Added NVH, Slightly Noticeable at Idle but Not When Driving
Complete Drop-In Replacement of Factory Engine Mounts
Compatible with BMW Motorsport Motor Mount Reinforcement Inserts
Sold as a Set (2 mounts)
What's Included:
(1x) Left Motor Mount
(1x) Right Motor Mount
Part Number Interchange:
22 11 2 284 817 (left side)
22 11 2 284 818 (right side)